On Tuesday, Isaac started primary school – and, as expected, it could have gone better.
Don't get me wrong, it could have easily gone much worse (this is Isaac); but compared to some of the little angels at the school gate, who behaved impeccably for their parents – practically skipping into the reception classroom – ours still claimed a podium finish in the 'sulky little twat' event.
Admittedly, it's not like his refusal to accept school came as a shock, since there were plenty of warnings:
He was the same when he went to pre-school (and even, on a few occasions, at nursery – which he loved);
Ollie was the same, when he started reception four years ago. In fact, he not only screamed when my wife dropped him off each morning, he refused to take part in P.E. for months (even, on one occasion, running away and hiding under a desk in an empty classroom). To this day, he still refuses to take his socks off when doing any kind of sport, lest his classmates catch a glimpse of his perfectly ordinary feet;
I was also the same at his age, when I went to primary school (a point my mother has raised on more than one occasion since Tuesday); and, until DNA tests prove otherwise, I assume that Isaac's genetic make-up is roughly 50% mine.
So, on the basis the male side of our family is comprised solely of wimps, who don't deal well with change, we really had no reason to believe Isaac would take the transition into primary school education with anything other than a massive fucking tantrum.
Still, ridiculous as it may sound, my wife and I still clung on to the slight possibility he might just 'pull it out of the bag' at the last minute.  Of course, the only thing he actually pulled out of the bag at the last minute was his P.E. kit, which was then launched across the room with a banshee-like scream, but this was the least of our worries.
You see, all parents have concerns before their child starts school; but whereas some might panic that their son or daughter will struggle to make friends, or may even get bullied, my three main worries were as follows:
1. Toiletting
The stubborn little bastard won't go to the toilet. At all.
It's not that he doesn't need to go, more that he cannot bear the thought of anyone knowing he is having a wee (including, sometimes, his own parents). He would far sooner give himself stomach ache (and Christ knows what other medical issues), by storing it up all day until home time, than just go to the toilet like any normal child would.
Thankfully, my wife also appears to be part-camel, and he has inherited his strong bladder from her (another Daddy-DNA bullet dodged, since I have the bladder of a particularly-incontinent tea-drinking pensioner), so at least there is only a limited risk of wetting himself.
2. Writing
He writes backwards. This is entirely because he is left-handed, and it is apparently quite normal with left-handed children, but his letters are sometimes so obscure, I did have a niggling concern that his teachers might assume he is a Russian spy;
That's his name at the top
3. His hair
I wrote in a recent blog entry about his long hair (https://middlerageddad.com/2018/06/01/blogs-and-girls/), and how much he adores it, but he has recently started worrying about being picked on because of it – and even, the day before starting school, confessed that he was scared the other children might think he is a girl.
Aside from this breaking my heart a little, it also gave me the rather unnatural concern that he may try to prove he is a boy by getting his willy out for all to see. It was a fleeting worry – since he won't even announce going to the toilet in front of others – but it was a worry nonetheless.
I also have the rather selfish concern that, for three days a week, I will be doing the morning school run, and I was meant to spend the summer practising doing pony-tails, pig-tails, French plaits etc., but time ran away with me.
What I had not anticipated for his first day, was that it would take nearly an hour of screaming and kicking to even get his underpants on (I should stress that the screaming and kicking was all him), and at one point the thrashing became so violent, I contemplated phoning our local priest.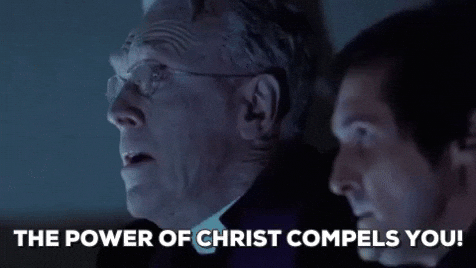 In the end, my wife patiently went through every pair he owns (and he seemingly has hundreds), in an attempt to calm him down, and somehow succeeded just in time for us to leave the house.
Ok, he refused to wear the school jumper, and would only put on the embroidered polo-shirt if he was allowed to wear a dinosaur t-shirt underneath (which was, incidentally, highly visible), but we chose to pick our battles, and the very fact we got him out of the door with any clothes on at all was frankly a miracle. We even managed a couple of obligatory 'first day' photos in the garden, which up until this year have only featured Ollie.
When we got to the playground, I have to admit I could see why it might be daunting for Isaac – or any child – to enter that environment for the first time.
The intake at our school is sixty children, and all of them had at least one, if not both parents with them for their first day; so there were upwards of two-hundred bodies swarming around the classroom door (and that's not including the children and parents of the neighbouring classrooms, which comprise the 'Infants' half of the school).
To pass the time before the bell (and subsequent scene I was expecting Isaac to make), I looked around at all the other parents, to see if I could determine which had experienced the 'first day' before with older siblings, and which were newbies. The difference was very obvious.
For example, the newbies often looked more nervous than their children, and some were already emotional at the thought of their little baby going off on their own. Many were uttering the usual phrases, like 'where has the time gone?' and 'it'll seem so quiet at home now', between tearful sniffs (hey, I'm not judging, I cried like a little girl at Long Lost Family the other week).
In contrast, the seasoned parents like us (and we only have two kids; some of these idiots with three or more really need to show some self-control), had adopted the same universal expression – which was a mixture of sympathy for the newbies ('I remember when we were like that') and sheer fucking glee that the latest/last of our offspring was finally someone else's responsibility for a large chunk of each weekday.
The difference between the two types of parent was even more obvious when the bell finally went, and the reception teachers came out to collect their new recruits for the academic year.
All the newbie parents squeezed their little darlings tightly one final time, wished them a wonderful first day, and sobbed as they watched them disappear through the door. They then hung around outside, hoping to catch a glimpse of their son or daughter smiling and having fun already, as a form of comfort for their childless journey home.
Some even made a point of talking to the teachers, to try and cram all of their child's little foibles into one barrage of verbal diarrhoea – as if the teachers haven't already dealt with every kind of weird child many times before (apart from, perhaps, Isaac). It was as though these parents simply couldn't bear to leave the playground.
Then, there was the rest of us. The battle-hardened parents with older siblings, who had given up caring some time ago. As one, we simply ushered (in some cases, pushed) our kids towards the teachers, offered a half-hearted 'you'll be fine'; 'have fun'; or 'don't fuck this up' (to our children, not the teachers); then turned and ran with unbridled joy and freedom.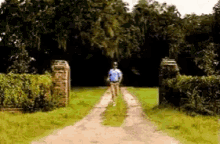 None of us looked back, and we certainly didn't hang around (in case our particular child did try to escape). Most importantly, we didn't even make eye-contact with any of the teachers, let alone talk to one of them, in case it slowed down our escape.
Even if we had spoken, it would only have been along the lines of:
"He's your responsibility now, so you fucking deal with him! You're only in teaching for the holidays anyway, admit it, so you're going to damn well earn them this year. Try not to let him break you by 3.15pm on the first day!"
Then we'd turn and run away, cackling gleefully.
In our case, Isaac immediately clung to us when he noticed other children going through the gate, and had to be physically detached by his favourite teaching assistant from pre-school, who we shall call Mr Shaw (because, well, that's his name). I doubt Mr Shaw will ever read this, but we owe him our thanks; because he came over, gave Isaac a hug, and then quickly carried him through the gate before he had chance to react.
Thankfully, it transpires the limited amount of concern we had dedicated to Isaac's first day (compared to when Ollie started, and I couldn't concentrate at work through worry), was completely unwarranted; because – by all accounts – it had gone about as well as we could have hoped.
As I said at the outset, it was by no means perfect, because he apparently hardly spoke all day, and didn't seem to make any new friends; but at least we didn't get a phone call around lunch time asking us to collect him and never bring him back.
When it comes to school collection time, particularly in those first few weeks, you dread being the parent who the teachers come over to for a 'chat'; because as soon as that happens you know it's your child who has created an issue. It's like a walk of shame, only it's the teacher doing the walking.
In contrast, there is no greater feeling of relief, than when the teacher heads towards you, only to detour or walk past at the last minute. It's the playground equivalent of your airport transfer bus arriving at a shitty hotel when abroad, then discovering it's for some other poor bastard.
Isaac even seemed relatively enthusiastic about returning the next day (which was something of a relief, because I was due to do the school run on my own) – that is, so long as he could have new shoes for the second day (and every subsequent day thereafter).
See, I told you he's odd.