Last Sunday, I (stupidly) took part in the annual 'Sandbach 10k', despite the fact that, not only had I never run a 10k race before, but I had never run 10k before.
When I first signed up for the event a few months ago (following a nudge from my darling wife), the furthest I had managed to run was around three miles. Nevertheless, in a moment of bold impetuousness one morning, I suddenly found myself forking out £16, for the privilege of attempting to run more than twice that distance (10k = 6.2 miles), without embarrassing myself.
So, over the last few months, I have tried to run at least twice a week, gradually increasing my distance on each occasion, whilst honing my physical fitness (from 'very out of shape' to 'mildly out of shape').
I'd love to paint the picture of a Rocky-esque montage, culminating in me running up some steps and celebrating at the top, but the truth is I spluttered my way through four miles, then four-and-a-half, and finally five miles, before eventually running out of time (excuse the pun).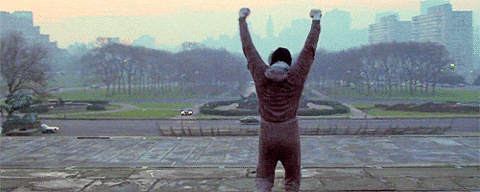 Still, I kept telling myself that it was 'only another mile', and I slowly began to believe that I could at least complete the distance – the problem was, I had no idea whether I would also achieve a respectable time.
I therefore decided to grade my expectations of the race, by creating a list of possible outcomes – ranging from most pleasing, to most disappointing (whilst all remaining realistic, since there was no point expecting to finish anywhere near the front):
| | | |
| --- | --- | --- |
| Level | Outcome | Satisfaction |
| 1 | Run it all – under 45 minutes | Ecstatic |
| 2 | Run it all – under 50 minutes | Delighted |
| 3 | Run it all – under 55 minutes | Pleased |
| 4 | Run it all – under an hour | Relieved |
| 5 | Run it all – over an hour | Acceptable |
| 6 | Have to stop and walk for a bit | Disappointed |
| 7 | Get a stitch, walk majority | Gutted |
| 8 | Fail to finish | Devastated |
| 9 | Fail to finish and require paramedic | Embarrassed |
| 10 | Develop stomach cramps, have to 'Paula Radcliffe' it by the side of the road, end up stretchered past crowds, crying, covered in own shit | Mortified |
Before I knew it, race day had arrived.
Feeling incredibly sick with nerves, I collected my running number, delicately attached it to my top (the last thing I needed at this stage, was to reveal my 10k virginity by lancing my nipple with a safety pin), then joined the other three hundred runners at the start.
I decided that, if I (optimistically) wanted to finish in the top one hundred, I should place myself about a third of the way back in the crowd, and then make sure I stayed in roughly the same position throughout the race.
However, as I stood there, two lithe gentlemen to my right began discussing their own personal targets, and when one said he was hoping to finish under forty minutes, and in the top twenty, I realised I was out of my depth. So, whistling under my breath, I took several steps backwards through the crowd, until I overheard a couple of middle-aged ladies discussing how they hoped they wouldn't throw up. Ah, these were more my people.
When the race started (somewhat haphazardly, because the Mayor couldn't get the sodding airhorn to work), I set off at what I hoped was a decent pace. After all, I didn't want to be immediately left behind, but I also didn't want to exhaust myself, by trying to keep up with the leaders.
Thankfully, the organisers had marked each kilometre with a bright orange sign, so when I got to the '1km' post, I quickly checked my trusty Casio (look, it's a classic, and a steal at £7) – it was showing a little over four minutes. Shit. I mean, I was pleased with that time, but I was aiming to do each kilometre in around five minutes, and felt pretty certain I couldn't keep that sort of pace going for another nine kilometres.
Sure enough, by the time I reached 2km, my legs were already hurting, and I was breathing hard. I had fully prepared myself to 'hit a wall' at some point (metaphorically speaking), but didn't expect it to be so pathetically soon. I'd screwed up, and was worried I would have to drop out before I'd even reached half-way.
I slowed down, got my breathing under control, and told myself it was just the initial nerves which were causing me to struggle. Then, shortly before the 3km marker, I was faced with this railway bridge:
It doesn't look much now, but when I was already struggling to comprehend running more than three times the distance that had damn-near killed me so far, it looked like bloody Kilimanjaro.
Sure enough, once I had completed it, my breathing was again laboured, and I had to persuade myself to just focus on the music I was listening to, and take it one marker at a time.
When I passed '4km' in around 19 minutes, then '5km' – or half way – in 24 minutes, I started to wonder whether I could possibly keep that pace going after all, particularly since I was beginning to feel slightly better and, at that rate, I could still finish in under 50 minutes. Plus, the route had just taken a long turn to the right, so I knew I was on my way back, and this was a huge psychological boost.
My next challenge (although I felt sure none of my fellow runners would see it as such), was the 'water stop' shortly before 6km.
As I approached, I could see a number of volunteers handing out plastic cups, but couldn't decide whether to take one. I didn't want to be carrying an empty cup for the remainder of the race, but equally hate littering. More importantly, I wasn't sure that having water sloshing around inside my already turbulent gut was the best move.
Nevertheless, I was extremely dry-mouthed, so I decided to risk it. After all, what was the worst that could happen?
I therefore approached the volunteer who was also a paramedic (I figured there was no harm in acquainting myself with the medical team now, to save time-consuming introductions later), and went to grab the cup she was holding out.
Unfortunately, I must have grabbed a little too hard (through fear of dropping it), because, well, I crushed it – and soaked her. I tried to apologise as I ran away, and think I heard her shout that she was fine, but I still felt bad. I made a mental note to try and collapse in front of a different paramedic later on.
In the build-up to the race, I had gathered as much advice as I could, and one tip which had stuck with me throughout, was that it can often help to focus on something, to take your mind off the pain.
I don't think the lady with the nice bottom, who overtook me between 6k and 7k, will perhaps ever know how inspiring (and timely) her derrière was, but by focusing all my attention on its glorious pertness, I managed to struggle my way past the 7k and 8k markers, and by that point I felt confident of at least finishing.
Bottom watching
In fact, when I reached the 9k milestone, and a cursory glance at my watch informed me that I was still – just about – on course for a sub-50 finish, I suddenly became all (uncharacteristically) confident.
No sooner had I thought this, however, it dawned on me that I still had to go back over the massive bloody railway bridge from earlier (the route having looped around Bradwall, to finish almost back where we started). If I thought the bridge had been daunting from the other direction, now it was positively terrifying:
Look, it seemed steeper at the time.
All I could think of, as I approached it with my gangly legs of sponge, was the 'Travelator' from popular '90's show Gladiators, and I just prayed that I wouldn't face-plant mid-climb, then slide my way back down – as so many contestants had done. When I had compiled my ten-stage list, I had never factored 'facial road rash' as a potential hazard. Damn.
Thankfully, there were some marshals stationed on the bridge, offering words of encouragement, and once I had plodded over the crest, I knew it was a straight run to the finish line – where my family were hopefully waiting to greet me. I didn't dare risk another glance at my watch, so I just gathered together what little energy I had left, and went for it.
Then, continuing my delirious '90s flashback, I started thinking of the film Memphis Belle, and that final scene where John Lithgow (and some other actors I don't remember), are waiting for the heroes to return, but the longer that time passes with no sign of the plane, the more their hopes dwindle. Would my wife and boys be at the finish line, with binoculars, wondering if I had enough fuel to get me home, slowly accepting with each passing second, that Daddy might never return?
Then, there I was. There it was. The gloriously camp inflatable finish line (sadly, not the only squidgy yellow monstrosity on display that day), and a crowd of people cheering me home. I couldn't make out any of my family, but to be honest I was too busy concentrating on not tripping up and making a complete tit of myself in front of a few hundred people.
I am delighted to confirm (for those who don't already know), that I finished the race in 81st place, and with a time of 49:16, which puts me very firmly in the 'Delighted' category.
I wearily – but gratefully – collected my medal and goodie bag (which bizarrely included a drinks bottle, bandana, and a loaf of bread – no, me neither) and posed for a celebratory photograph with my beaming boys.
I know many 'serious' runners may well scoff at my achievement, and perhaps rightly so, but I am incredibly proud of completing a 10k without any major incident, and in a respectable time to boot. It was exhausting, painful, gruelling, horrible, and I hated every damn second of it.
Which makes it all the more confusing/frustrating, that I quite fancy doing it again.